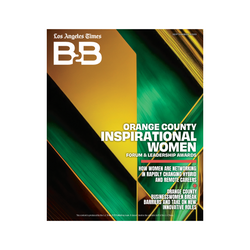 OC Inspirational Women Forum & Leadership Awards 2023 Magazine
L.A. Times B2B Publishing proudly presents our first Orange County Inspirational Women Forum & Leadership Awards magazine, which recaps the awards luncheon and networking event held on August 18 at Marriott Irvine Spectrum. In addition, there is a photo gallery; highlights of an inspiring keynote speech on taking risks by Annette M. Walker, president of City of Hope Orange County; and a summary of an enlightening discussion panel called Awareness to Impact: How Organizations Can Support Sustainable Progress for Women in Business. The magazine also presents several informative articles touching on the current business trends in Orange County as well as profiles of the honorees, finalists and nominees. We hope you enjoy reading about the recent successes and career highlights of all the truly inspirational women.
The selection of honorees and nominees as well as the production of the event and the magazine were organized by L.A. Times B2B Publishing and did not involve the editorial staff of the L.A. Times. Contact us with comments or questions at b2bpublishing@latimes.com.