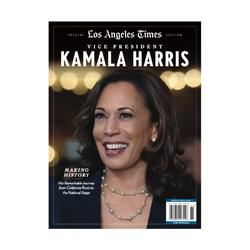 Kamala Harris has made a meteoric ascent in American politics – from Bay Area prosecutor to the nation's first woman vice president – and the Los Angeles Times has covered her every step of the way. This magazine assembles the best of nearly two decades worth of reporting on Harris, delving into her Indian heritage, her formative years at Howard University, her hotly-debated work in criminal justice and her political maturation as California Attorney General, U.S. Senator, presidential candidate and, finally, vice president.
 This item is not available for shipping outside of the US. All sales are final.
Order by 12/10 receive by Christmas.