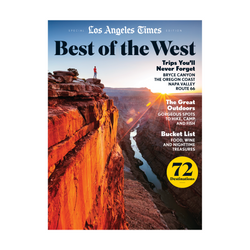 L.A. Times: Best of the West Magazine
The American West holds a special place in the public imagination. It's famous for its breathtaking mountains, canyons, forests, prairies, deserts and miles of coastline, as well as its role in shaping the country's identity and culture. This storied region is where you can behold the Grand Canyon, visit Napa's vineyards, let loose in Las Vegas, stargaze in Joshua Tree, learn about the transformation of places like Portland and Seattle from pioneer towns to industrial centers, fall in love with glamorous Old Hollywood, or simply devour the best pizza of your life.
In this special issue, writers, photographers and essayists for the Los Angeles Times share their perspective on an area of the country they cover in depth every day. Learn about the people and places that have impressed them the most, and where they want to return.
Order by 12/10 receive by Christmas.