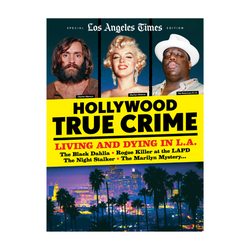 Hollywood Crimes Magazine
Hollywood has always been associated with glamour. But there's also a dark side to Tinseltown, where infamous criminals have left their mark over the years. From serial killers like the Night Stalker and the Sunset Strip Killers to iconic murder cases involving the Black Dahlia, O.J. Simpson and the Menendez Brothers to mysterious celebrity tragedies including Marilyn Monroe, Natalie Wood and the Notorious B.I.G, the City of Angels has been the site of many horrifying—and fascinating—true crimes over the years. This special edition of the Los Angeles Times looks back at these haunting cases and explores our ongoing obsession with the darkest side of humanity and our desire to see justice.
Order by 12/10 receive by Christmas.