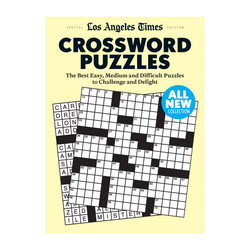 L.A. Times Crossword Puzzles 2022
The Los Angeles Times ran its first crossword puzzle more than four decades ago and now has published thousands. In this new special collection, the Times presents a curated volume of the puzzles that have become a daily staple for readers, featuring clues that will challenge your vocabulary and test your history and pop culture knowledge. You'll find more than 80 puzzles of scaling difficulty, as well as the history of how crosswords lifted spirits during World War I. Plus: an expert's guide to completing puzzles.

Item is final sale. 
Order by 12/10 receive by Christmas.