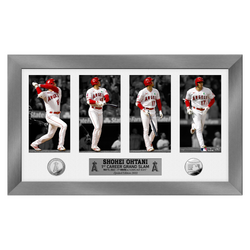 Shohei Ohtani First Career Grand Slam Silver Coin Photo Mint
With a limited edition of only 2,022 available, this collectible frame commemorates Los Angeles Angels star and MLB sensation Shohei Ohtani's first career grand slam!
This 12" x 20" silver frame features four action images of Ohtani hitting his grand slam from start to finish under plexiglass. Matted below the photos on either side are two 39mm in diameter Silver Plated coins: a Los Angeles Team Coin on the left and an MLB logo coin on the right. Officially licensed by the MLB and MLBPA. Made in the USA by The Highland Mint!