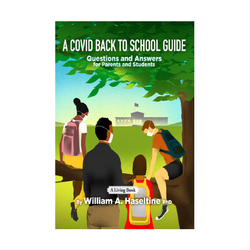 A Covid Back To School Guide
Many parents and students feel alone in making their decision, unsure whether schools being open equates to them being safe. A Covid Back To School Guide: Questions and Answers for Parents and Students answers the most pressing question facing parents and students today—is it really safe to go back to school?
Answering that question will never be simple, at least not until the pandemic is over, but A Family Guide to Covid provides insight that might make the choice a little easier. In the book, Dr. Haseltine walks readers through a simple three step rule of thumb that every family can use to come to the decision that is best for them: What is our student's risk of becoming infected? What is our family's risk of severe illness? And is our school doing enough to protect students from an outbreak on campus?
Each chapter of the book is followed by a series of questions and key takeaways to help parents and students evaluate their risk—questions to ask themselves, their school administrators, and their local leaders. While the question of going back to school is not a simple one, this book simplifies the steps needed to arrive at an answer.
Please note that this item is an eBook