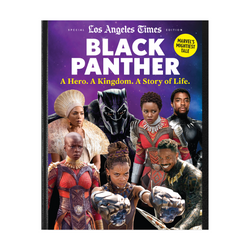 Ultimate Guide to Black Panther Magazine
In 2018, the King of Wakanda became the most powerful man in Hollywood. With the release of the Marvel Cinematic Universe film Black Panther, the comic-book character came to life on movie screens, earning more than $1.3 billion at the worldwide box office. As played by the late Chadwick Boseman, T'Challa (aka the Black Panther) became a household name decades after first being introduced in the pages of Marvel Comics by legendary creators Stan Lee and Jack Kirby.
This special edition of the Los Angeles Times celebrates the long history of the Black Panther, his journey from page to screen, the phenomenal success of the ambitious first film (which was nominated for seven Academy Awards, winning three) and what to expect in the upcoming sequel, Black Panther: Wakanda Forever.
Order by 12/10 receive by Christmas.