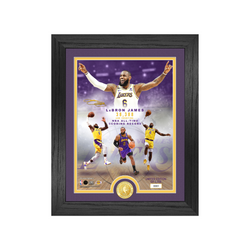 LeBron James Legends NBA All-Time Leading Scorer Bronze Coin Photo Mint
This limited-edition 13" x 16" frame features LeBron James in multiple poses with his facsimile (replica) signature combined with a solid bronze coin to commemorate setting the NBA all-time scoring record. Double matted under glass in the wood frame is an exclusive, hand numbered 8"x10" photo of LeBron James and a 39mm NBA record breaker bronze coin minted with the NBA shield and record commemoration. Each photo mint is officially licensed by the NBA and accompanied by a certificate of authenticity. Proudly made in the U.S.A. by The Highland Mint.
Please allow 2-4 weeks for this item to ship.