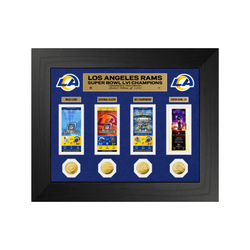 Los Angeles Rams Road to Super Bowl LVI Championship Deluxe Gold Coin & Ticket Collection
This limited edition collectible frame celebrates the Super Bowl LVI Champions, the Los Angeles Rams! This frame features a 18"x 22" wood frame with a commemorative ticket from each playoff win on the Rams road to the Super Bowl with engraved nameplates above. Matted below each ticket is a 39mm in diameter gold plated coin, a Los Angeles Rams Team Coin, Division Champions Coin, Conference Champions Coin and Super Bowl LVI Champions Coin. With a limited edition of only 1,000, each item is protected by glass and accompanied by a certificate of authenticity. Officially licensed by the NFL and made in the U.S.A.
Order by 12/8 to receive by Christmas.