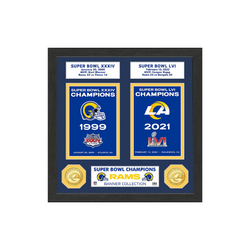 Rams Super Bowl Banner Collection Bronze Coin Photo Mint
This unique 13"x 13" collectible frame features a replica of the banners hanging in Sofi Stadium matted with two minted bronze coins. Framed and matted under glass are replicas of the 1999 and 2021 Super Bowl championship banners. Above each banner are the details of the game as well as the score. Below the banners are a solid bronze minted 39mm Rams two time SB champions coin and a solid bronze Rams team coin. Officially licensed by the NFL, each photo mint is delivered with a certificate of authenticity and made in the U.S.A. by The Highland Mint.
Order by 12/8 to receive by Christmas.