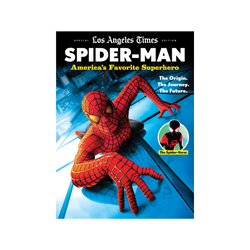 L.A. Times: Spider-Man Magazine
With great power comes great responsibility. For more than 60 years, that simple yet memorable tagline has been synonymous with one of pop culture's most enduring and beloved superheroes, Spider-Man. Created for Marvel Comics in 1962 by Stan Lee and Steve Ditko, Spider-Man was different from other comic book crime fighters that had come before him. A meek teenager weighed down by personal problems, Peter Parker found himself gifted with unique abilities after being bitten by a radioactive spider. He uses those powers to fight crime, often at the expense of his own happiness. Over the decades, the character has appeared in thousands of comic books, dozens of cartoons, TV shows and video games and, of course, a series of blockbuster movies, from 2002's Spider-Manstarring Tobey Maguire to the upcoming animated sequel Spider-Man: Across the Spider-Verse. This special edition of the Los Angeles Times celebrates the colorful history and lasting impact of Marvel's friendly neighborhood superstar.
Order by 12/10 receive by Christmas.