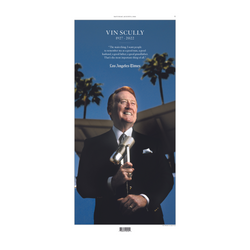 Vin Scully Special Section 8/6
The Los Angeles Times commemorates the life and legacy of Dodgers legend Vin Scully. Don't miss behind-the-scenes stories and photographs from the Los Angeles Times capturing key moments dating back to his debut as the voice of the Dodgers in 1954.
Publishes on August 6, 2022.
Will ship in 5-7 business days.
All sales are final.